Product Item:Horizontal CNC V Groove Machine
Main Features:
1. Streamline Design originated from EU, beam and frame through overall welding and annealing treatment to eliminate stress, good rigidity, high accuracy, long term use without deformation.
2. Horizontal cnc v groove machine With 4 control axes, hydraulic hold-down device, the gantry and tool holder make round-trip move together when working.
3. Use ball screw & roller heavy-duty guide rail, D1N6-grade precision helical gear, planetary reducer: balance, accurate
4. CNC open controller, supporting full-automatic operation, 4-blades can run simultaneously significantly improves the grooving efficiency.
5. Adopt Taiwan industrial-control controller and Japan Panasonic closed-loop servo system: easy, flexible, fast, efficient and low noise.
6. Equipped with automatic lubrication system: low wear, fine processing, ensuring machining accuracy and high dynamic response characteristics.
Standard Accessories:
●Taiwan HUST(HUST-CNC-H6DB-H)controller: precise, accurate, easy.
● Full-automatic worktable: flat, rigid, durable
● Hydraulic clamping device: firm, fast
● Tool-holder, guide rail are made by QT900 material with good durability.
● High-speed sliding tool-holder, ball screw and linear guider rail: high repositioning accuracy.
● Two kinds of blades, 4 group blades significantly improves the grooving efficiency.
● Standard cooling device, prevent blades overheating
● Sleeve hydraulic pipe and fittings
● Taiwan HIWIN heavy-duty roller guide rail
● Japan YUKEN solenoid valve
● Taiwan YYC gear and rack
● Germany R+W couplings
● Japan HERG lubricating system: support auto-setting time, reduce friction
● Equipped with cooling spray system: cooling blades, reduce friction, improve service life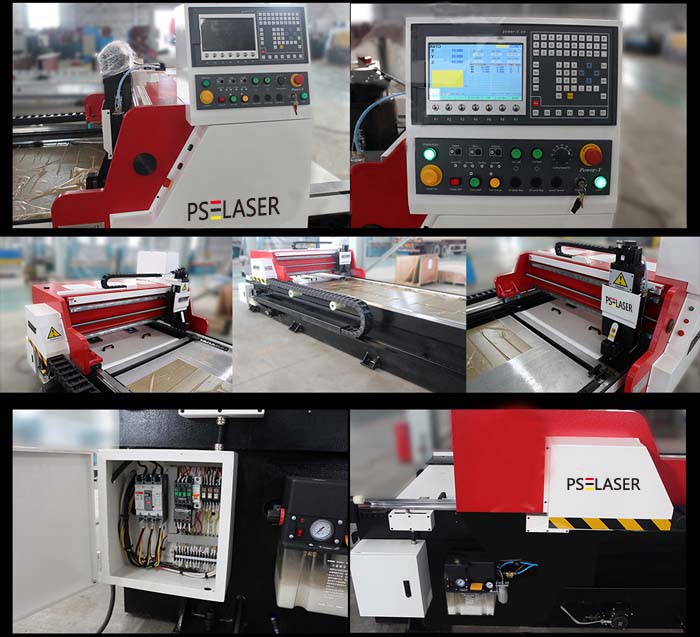 Safety Standard:
● Safety standard(2006/42/EC)
● Electric cabinet with opening door cuts off power function
● China-made electric cabinet (safety grade 4)
● Safety relay monitor working switch, safety protection
Taiwan HUST Controller (HUST-CNC-H6DB-H):
● Control 6-axes
● 6-axes linkage
● Min. setting unit 0.01mm
●10.4 inch color screen
● PLC breaking function, fixed scanning time is 10ms
● Each axis with feedback function for showing axis position and avoiding collision
● With speed-up & speed-down control, SSR-type signal panel for external input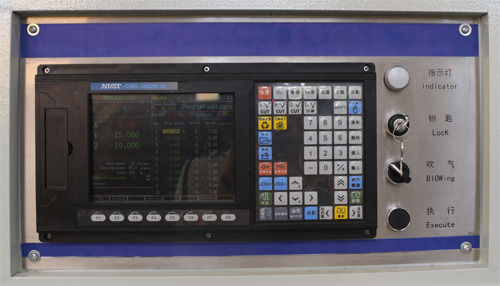 Metal V Cutting Machine Main Technical Parameters:
Model

Max. groove thickness(mm)

Min. groove thickness

(mm)

Groove speed

(m/min)

Knife L-R resolution

(mm)

Knife U-D resolution

(mm)

Position accrracy

(mm)

Penumatic pressure

(MPA)

Dimension

(LxWxH)

(mm)

1220×2500

6

0.5

65

±0.001

±0.001

±0.01

6-8

4650x2300x1680

1220×3200

6

0.5

65

±0.001

±0.001

±0.01

6-8

5500x2300x1680

1220×4000

6

0.5

65

±0.001

±0.001

±0.01

6-8

6000x2300x1680

1220×5000

6

0.5

65

±0.001

±0.001

±0.01

6-8

7500x2300x1680

1220×6000

6

0.5

65

±0.001

±0.001

±0.01

6-8

8500x2300x1680

1500×4000

6

0.5

45

±0.001

±0.001

±0.01

6-8

6000x2550x1700

1500×6000

6

0.5

45

±0.001

±0.001

±0.01

6-8

8500x2550x1700
Standard/Optional Accessory List:
No

Accessory

Model / Manufacturer

Configuation

1

CNC Controller




HUST H6DLC-4 - Taiwan




Standard




2

Dynamic Cable and Towline




IGUS - Germany




3

Planetary Reducer




Newcastle - Germany




4

High-precise Ball Screw




THK - Japan




5

High-precise Linear Guide Rail




HIWIN - Taiwan




6

Transmission Bearing




NSK - Japan




7

Servo Motor




Panasonic - Japan




8

Electric Components




Schneider - France




9

Lubricating System




HERG

(

SMC

)

- Japan




10

Gear and rack




YYC-Taiwan




11

Coupling




R+W – Germany




12

Safety Standards



■CE □CSA ■NR-12 □OSHA