Product Item:Vertical CNC V Groove Machine
1. HRK series CNC V grooving machine is compact in structure, reliable in performance, easy operation, no deformation forever.
The structure consists of three sets of servo motor drive system, pneumatic clamping system and main steel frame.
2. Y-axis System
The Y-axis system of the machine is composed of ECMA-F20830 main motor, AC servo motor, planetary reducer timing belt and timing wheel, high-precision gear rack and linear guide rail, etc.
The function of servo motor is to drive the cutter seat through planetary reducer to make rectilinear motion on the linear guide rail.
3. X-axis System
The X-axis system is composed of E21320 servo motor, timing belt, timing wheel, ball screw, linear guide rail, backgauge rack, clamping tools etc parts. The motor drives ball screw and backgauge rack to make rectilinear motion on guide rail, and provide the accurate positioning power for the backgauge mechanism.
4. Z-axis System
The Z-axis system is composed of C20604 servo motor, timing belt, timing wheel, ball screw, cutter holder and so on. Its function is to drive the ball screw and cutter seat make rectilinear motion through timing belt and timing wheel, and provide precise positioning power for the tool holder.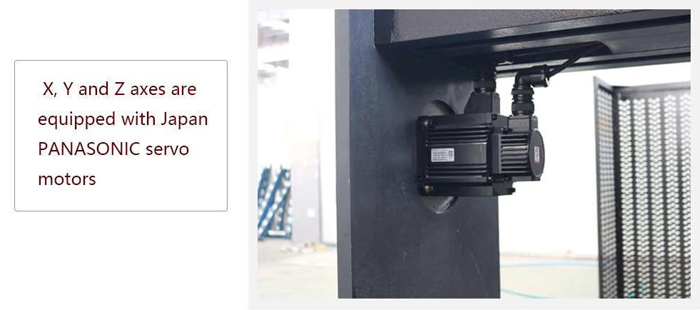 5. Pneumatic System
The pneumatic system is divided into two groups, and the pneumatic system if part of the backgauge.
Its function is to provide clamping force and tightly holding plate before grooving.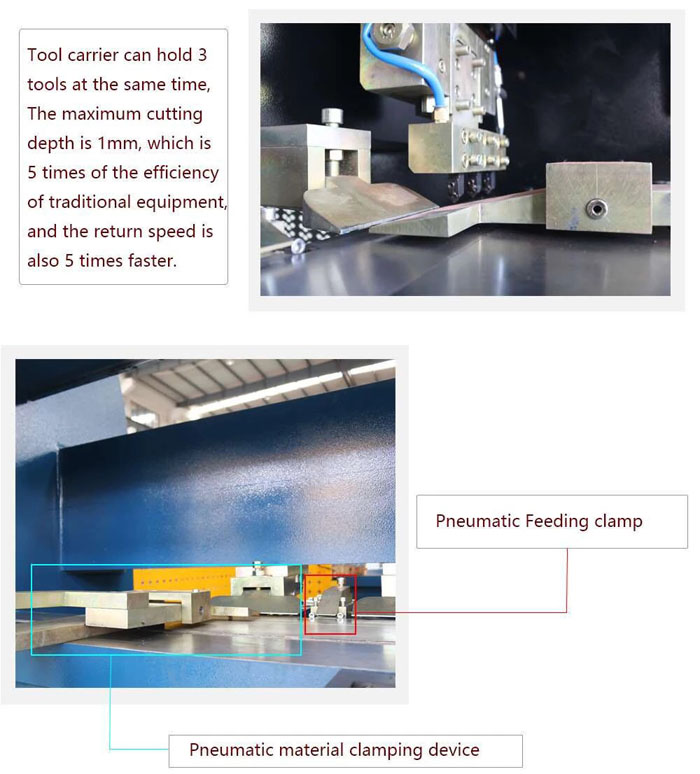 6. Electrical Control System
The electrical control system is composed of PLC, actuator, touch screen, electric control element, electrical cabinet, etc. the electrical cabinet is installed in the side wall of the machine, which is convenient for maintenance and higher protection performance. Any work can be realized by controlling the touch screen.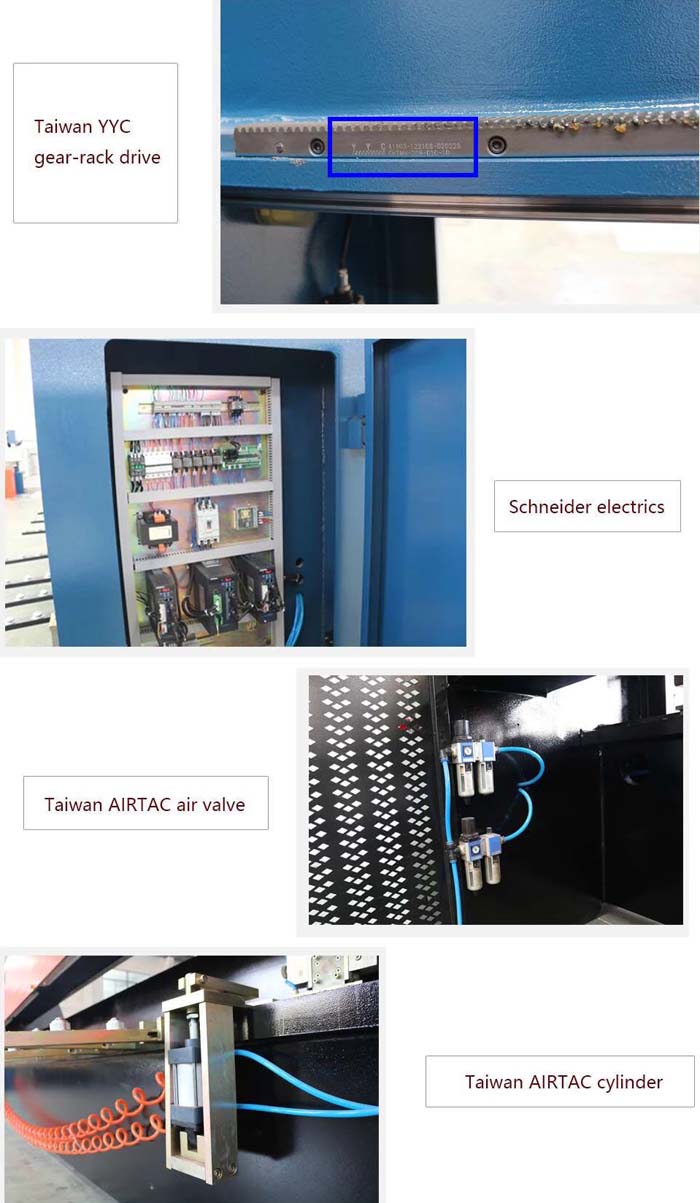 Safety Identifiers:
● Safety standards (2006 / 42 / EC).
● Opening door cuts off power.
● Foot switch (safety grade 4).
● Rear metal safeguard, CE standard.
● Safety relay monitors foot switch, safety protection
CNC Controller:
1. Lower maintenance cost
2. Shorten training time
3. Avoid collision
4. In any axial direction can be installed with grating ruler
5. Responsive time for acceleration/deceleration: 0.5US
6. High-speed positioning of main shaft
7. With retraction function
8. Intellective fault alarm and troubleshooting function
9. PLC interrupt function: fixed scan time 10ms
10. All axes open-loop control with feedback function
11. The servo motor torque can be read and displayed
12. The acceleration and deceleration control curve is superior to other numerical control.
13. With DC power input module
14. With SSR external input signal plate
15. Easy wiring, low wiring cost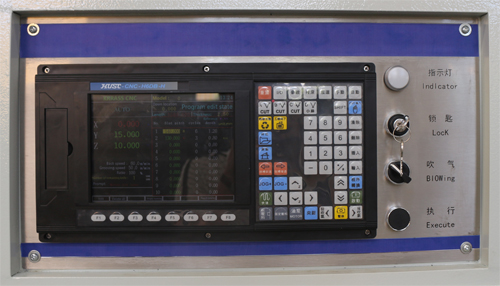 Main Technical Parameters:
| | | |
| --- | --- | --- |
| Max. width of steel sheet to be notched: | 1250mm | 1250mm |
| Max. length of steel sheet to be notched | 4000mm | 3200mm |
| Maximum thickness of steel sheet to be notched: | 6mm (flatness of steel sheet< 3mm) | 6mm (flatness of steel sheet< 3mm) |
| Min. thickness of steel sheet to be notched | 0.2mm | 0.2mm |
| Max. distance of the beam movement (backward and forward) | 1220mm | 1220mm |
| Min. distance of V-trough edge: | 15mm | 15mm |
| Max. distance of tool carrier movement (upward and downward) (in the direction of axle Z) | 50mm | 50mm |
| Resolution of tool carrier movement (upward and downward) (in the direction of axle X) | 4300mm | 4300mm |
| Cutting speed: | 15m-60m/min | 15m-60m/min |
| Min. setting unit of axle Y | 0.001mmmm | 0.001mmmm |
| Positioning precision of axle Y | ±0.02mm | ±0.02mm |
| Min. setting unit of axle Z | 0.001mm | 0.001mm |
| Positioning precision of axle Z | ±0.02mm | ±0.02mm |
| Pressure range of gas circuit: | 0.4-0.6mpa | 0.4-0.6mpa |
| Gross weight | 9500kg | 8000kg |
| Dimension: | 5700*2200*2300(mm) | 500*2200*2300(mm) |
Main Configuration of the Machine:
No

Name

Manufacturer Name




1

CNC Controller




HUST - Taiwan




2

Servo Motor




Panasonic - Japan




3

Servo Drive




Panasonic - Japan




4

Speed Reducer




LIMING - Taiwan




5

High-precise Ball Screw




ABBA - Taiwan




6

High-precise Linear Guide Rail




HIWIN - Taiwan




7

Touching Ball Bearing




NSK - Japan




8

Grooving Cutter




SECO - Sweden




9

Electrical Element




Schneider – France




10

Power Cable




IGUS - Germany




11

Electrical Element




AIRTAC - Taiwan




12

Air Cylinder




AIRTAC - Taiwan




13

Rack




YYC - Taiwan




14

Gear




YYC - Taiwan




15

Operation Controller




HUST - Taiwan




16

Safety Standards




■

CE

□CSA

■

NR-12

□OSHA



Accessories List:
| | | | | |
| --- | --- | --- | --- | --- |
| No | Name | Specification | Unit | Quantity |
| 1 | Manual | Operation Manual, Circuit Diagram | pcs | 1 |
| 2 | Foundation Bolt | 45# Steel | set | 1 |
| 3 | Oil Gun | Bangjin - Taiwan | set | 1 |
| 4 | Grease Gun | HS87 Lever Type- Yangzhou | set | 1 |
| 5 | Air Blow Gun | Elke | set | 1 |
| 6 | Allen Wrench | | set | 1 |
| 7 | Air Pipe | | meter | 3 |
| 8 | Air Pipe Nipple | | pcs | 4 |
| 9 | Cutter Basic Plate | Heat Treatment Steel Plate | pcs | 2 |
| 10 | Alloy Cutter Rest | KPLD – South Korea | pcs | 2 |
| 11 | Alloy Cutter | KPLD – South Korea | set | 1 |
| 12 | White Steel Cutter | Sweden | pcs | 3 |
| 13 | Filler Gauge | Huishen - Shanghai | set | 1 |